These essen­tial exer­cis­es can help to relieve dis­com­forts dur­ing preg­nan­cy, pre­pare for labor, and recov­er quick­ly. Remem­ber:
Pro­tect Your­self
Do Not Over­reach Your Abil­i­ties
You are Respon­si­ble for your Body
C-Curve™ or Hiss-Compress
Direc­tions:
Sit upright on your sits­bones (rock­er-like bones on both sides of your vagi­na)
Cen­ter your weight, not too far for­ward or back, nor more to one side than the oth­er. Relax abdomen and inhale (left)
Exhale, com­press­ing the abdomen and pulling bel­ly but­ton toward the back (cen­ter pho­to)
Roll back slight­ly, con­tin­u­ing to com­press the abdomen (right)
Return to upright.
Start with 3 sets of 3 at a time and progress to 3 sets of 10
Back Care Video
Check out the Yale Back Care Video.
Kegel Exercises for the Pelvic Floor
Kegel #1:
Squeeze the sits­bones togeth­er; then inhale
Exhale and release the sits­bones
Kegel #2:
Squeeze the sphinc­ter mus­cle around the anus, then the one around the vagi­na and ure­thra; then inhale
Exhale and release the sphinc­ter mus­cles
Kegel #3:
Lift the pelvic floor up inside; then inhale
Exhale and slow­ly low­er the pelvic floor
Start with 3 of each and progress to 10 of each
Side-Lying Rest Position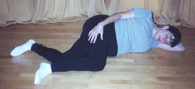 To max­i­mize blood flow to the uterus and pla­cen­ta, and to rest your pos­tur­al mus­cles, try lying on your side (left side is most often rec­om­mend­ed) 20 min­utes a day. Lis­ten to qui­et music, use the time for con­tem­pla­tion, or take a nap!
Aerobic Exercises
We know that appro­pri­ate aer­o­bic activ­i­ty dur­ing preg­nan­cy helps relieve dis­com­forts, reduces per­ceived exer­tion, and pro­vides sta­mi­na for labor. It is the most effec­tive exer­cise com­po­nent for enhanc­ing preg­nan­cy, birth and recov­ery. Here are some cau­tions:
Get approval from your health care provider
Do activ­i­ties with which you are famil­iar
Don't begin a vig­or­ous reg­i­men after 26 weeks
Stop if you feel fatigued
Do not exer­cise if you have a fever, vagi­nal bleed­ing or exces­sive dis­charge, or if you are hav­ing reg­u­lar con­trac­tions; instead, con­tact your health care provider.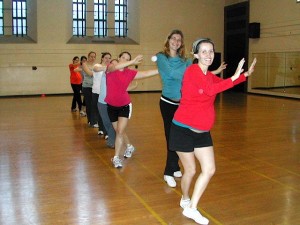 If you are not accus­tomed to aer­o­bic activ­i­ties, begin with sim­ple loco­mo­tor activ­i­ties such as walk­ing. Start with 5 or 10 minute walks 3 times a week and progress to 20 or 30 minute walks 3 — 5 times a week.
A spe­cial pre­na­tal fit­ness class a cou­ple days a week can be an impor­tant part of your fit­ness rou­tine. In addi­tion to con­tribut­ing to your phys­i­cal fit­ness, being with a group pro­vides emo­tion­al sup­port.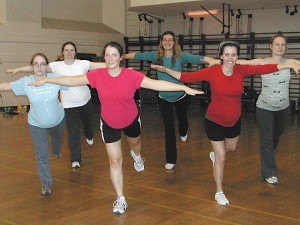 >Cen­ter­ing and Bal­ance
Learn­ing to cen­ter your weight and move in a bal­anced way helps pro­tect your joints and pre­vent injury. Always move with your weight cen­tered and be sure to breath as you move. A qual­i­fied pre/postnatal fit­ness instruc­tor can help you learn to stay active and be safe.
Tips for Abdominals
After 20 weeks, use curl downs to strength­en abdom­i­nals. Be sure to "splint" or pull the sides of the abdomen togeth­er while curl­ing down as shown in pho­tos below.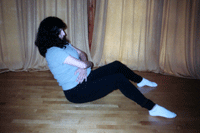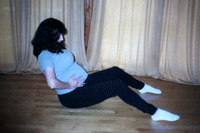 Standing Pelvic Tilt
Direc­tions:
Stand with your weight cen­tered, feet about a foot apart, knees relaxed
Flex or bend in your hip sock­ets, so your bot­tom tilts back, then inhale
Exhale and squeeze the gluteal mus­cles
Press the bot­tom of the pelvis for­ward and tilt the top back
Release and return to start­ing posi­tion (cen­ter pho­to)
Start with 3 sets of 5 and progress to 3 sets of 10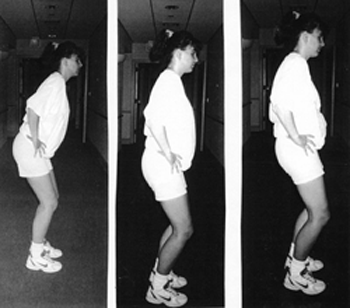 Birth Squats
Direc­tions:
Begin seat­ed; bring one foot onto the floor and lean onto hands (left)
Place oth­er foot on the floor and adjust the posi­tion for com­fort (right)
Return to sit­ting by revers­ing the process
Repeat 2 or 3 times, stay­ing in the posi­tion longer as you progress
This exer­cise is not advis­able if you have prob­lems with your knees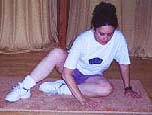 Upper Back Strengthening
Direc­tions:
Sit Upright and cen­tered
Arms for­ward, inhale (left)
Exhale and slow­ly open arms to side (right)
You can use an exer­cise tube or band as shown, or use a tow­el, in which case arms remain in front and the exer­cise is iso­met­ric. Con­tin­ue breath­ing in and out while attempt­ing to pull arms open.
Start with 3 sets of 5 and progress to 3 sets of 10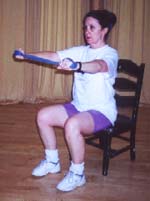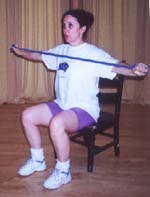 Have a ques­tion? Con­tact expert@dancingthrupregnancy.com.