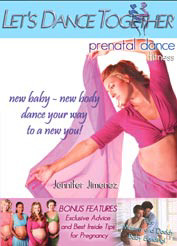 DTP-certified pre/postnatal dance instructor Jennifer Jimenez of Simi Valley, CA has created a lovely Prenatal Dance DVD for her program: Let's Dance Together. Dancing Thru Pregnancy founder, Ann Cowlin, helped Jennifer with the final safety edit of this prenatal dance video and finds it to be an excellent workout, particularly for those with a new age bent.
The Prenatal Dance DVD has been endorsed by Dr. Jennifer Lang, California obstetrician. If you cannot find pre/postnatal fitness programs in your area or if you prefer working out at home, we recommend this DVD to you.
Purchase the Prenatal Dance DVD ($19.95) and you can use our special DTP discount code [LETSDANCE123] and receive a $5 discount when you check out of the Let's Dance Together store.
To order, visit the online store to purchase the Prenatal Dance Fitness DVD. You can pay online with PayPal, VISA and Master Card. We also recommend the Dance Scarf ($10) for a more intense workout. Through your online purchase, you will also be supporting Dancing Thru Pregnancy and our commitment to the White Ribbon Alliance for Safe Motherhood by purchasing this video!