These essen­tial exer­cises can help to realign your body after birth, pro­vide sta­mina, and increase strength. Remember:
Pro­tect Yourself
Do Not Over­reach Your Abilities
You are Respon­si­ble for Your Body
Con­struc­tive Rest Position
Direc­tions:
Lie on your back with your knees bent and feet on the floor a com­fort­able dis­tance from your buttocks
If needed, place a pil­low under the back of your head
Fold arms over your chest, or rest hands on the abdomen
Rest and breath slowly, let­ting the back of your torso melt into the floor
In this posi­tion, the pull of grav­ity assists in relax­ation of mus­cles and allows bones to realign in a non-pregnant pos­ture. Rest here 10 to 20 min­utes, while baby sleeps.

While You Are Nursing
WHEN SEATED place pil­lows under the baby to bring her/him to the breast; this way your shoul­ders do not have the strain of the baby's weight and your hands are free to inter­act with the baby
LYING ON YOUR SIDE bring the baby to the breast
AFTER VIGOROUS EXERCISE your milk may con­tain lac­tic acid, which some babies object to, so express milk before you exer­cise to give to the baby afterwards
Total Body Stretch
Direc­tions:
Stand with feet together, then stretch one foot back
Press back heel into the ground, bend front knee and lean for­ward slightly
Put palms of hands together and stretch them forward
Lengthen the line from the fin­ger tips to the back heel
Breath in and out 3 times, then slowly return to upright and do the other side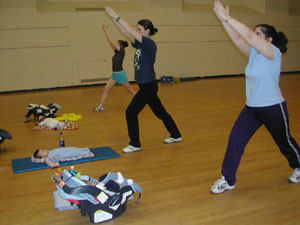 Car­dio, includ­ing stroller aerobics
Car­dio, or aer­o­bic exer­cise, is the source of many of the ben­e­fits of exer­cise dur­ing the child­bear­ing year. Burn­ing fat and pro­vid­ing new moms with the energy and endurance to enjoy par­ent­ing are two ways car­dio can be a major plus!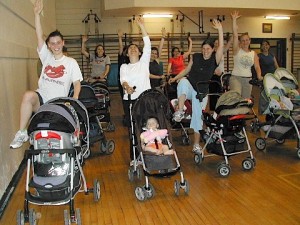 C-Curves™ or Hiss/Compress Exer­cises
Fol­low­ing birth, the C-curve exer­cise is crit­i­cal for deep abdom­i­nal strength and low back sup­port. In case of a cesarean, wait 2 weeks before try­ing this.
Sit­ting upright, inhale.
Exhale and com­press the deep abdom­i­nals, mak­ing the shape of the let­ter "C."
Return to upright.
Repeat 8 or 10 times.
Rest
Repeat
Be sure you can main­tain the com­pres­sion or pulling in action before begin­ning actions that stress the abdomen, such as curl-ups.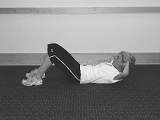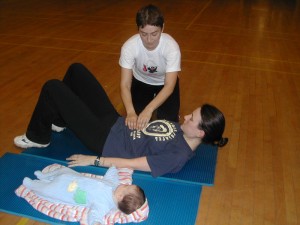 Also, check for dias­ta­sis recti, or sep­a­ra­tion of the rec­tus abdom­i­nal mus­cles. Seek the assis­tance of a qual­i­fied pre/postnatal instructor.
Strength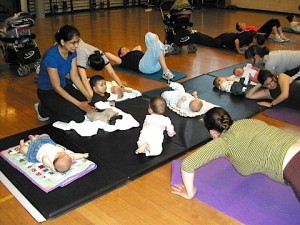 Basic core strength exer­cises — curl-ups, planks, push-ups, etc. — can be fun for both mom and baby! Make sure you use good form.
Inter­act­ing with your baby on the floor is a chal­lenge. Con­sult Take A Class to find an instruc­tor to help you meet your goals.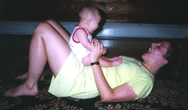 Kegels (refer to preg­nancy exer­cise tips)
Have a ques­tion? Con­tact expert@dancingthrupregnancy.com.