Danc­ing Thru Preg­nan­cy offers resources to show ben­e­fits, safe­ty, and guide­lines for women to stay active dur­ing and after preg­nan­cy. It's extreme­ly impor­tant to stay active in the pre/postnatal peri­ods of preg­nan­cy. Research demon­strates that reg­u­lar­ly sched­uled mod­er­ate-to-vig­or­ous exer­cise helps reduce the need for inter­ven­tions in labor and helps pre­vent pre/postnatal health prob­lems such as meta­bol­ic dis­or­ders and hyper­ten­sion. Exer­cise also pro­vides imme­di­ate and long-term health ben­e­fits to both mom and baby. Fur­ther­more, twen­ty min­utes of mater­nal aer­o­bics at a pace that breaks a sweat and caus­es a breath­ing chal­lenge done three times a week improves baby's brain devel­op­ment!
Find more infor­ma­tion about how exer­cise helps both mom and baby in our Research sec­tion.
Danc­ing Thru Preg­nan­cy reg­u­lar­ly mon­i­tors research and applies it to help ensure the safe­ty and effec­tive­ness of our pro­grams. A typ­i­cal exer­cise pro­gram com­bines aer­o­bics and spe­cial core strength exer­cis­es with yoga-type cen­ter­ing, relax­ation, and group sup­port. Danc­ing Thru Preg­nan­cy pre/postnatal fit­ness pro­grams are avail­able to women in the U.S. and in oth­er loca­tions around the world.
Please vis­it our Take a Class page to find preg­nan­cy fit­ness & exer­cise pro­grams near you.
Benefits of Exercise & Fitness During and After Pregnancy

• Relief from dis­com­forts
• Reduced risk for some dis­or­ders (ges­ta­tion­al dia­betes, preeclamp­sia)
• Improved sta­mi­na before, dur­ing and after labor
• Less need for inter­ven­tion dur­ing labor and birth
• Quick recov­ery peri­od fol­low­ing birth
• Improved long-term health out­comes for moth­er and baby
---
Safety Issues When Working Out While Pregnant or After Childbirth

• Reg­u­lar, mod­er­ate activ­i­ty improves deliv­ery of oxy­gen and nutri­ents and reduces risks
• Some posi­tions — stand­ing still or lying on your back for a long time — may con­tribute to blood pres­sure syn­dromes and loss of uter­ine blood flow
• The need for pro­tein and water is increased
• Sud­den, jar­ring move­ments may have neg­a­tive effects
• Splint­ing the Abdomen Dur­ing Curl Downs:
After 20 weeks, use curl downs to strength­en abdom­i­nals. Be sure to "splint" or pull the sides of the abdomen togeth­er while curl­ing down as shown in pho­tos: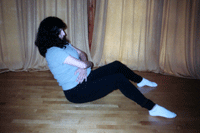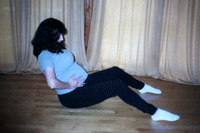 ---
Guidelines for Effective Mom-Baby Fitness

• Get prop­er screen­ing from your health care provider
• Do some cen­ter­ing and relax­ing exer­cis­es along with aer­o­bics, strength and stretch.
• Avoid fatigue and over-train­ing; do reg­u­lar exer­cise 3 — 5 times a week
• Eat small meals many times a day (200–300 calo­ries every 2–3 hours)
• Drink at least 8 cups of water every day
• Avoid hot, humid places
• Wear good, stur­dy ath­let­ic shoes dur­ing aer­o­bic activ­i­ties
BE CAREFUL! LISTEN TO YOUR BODY! CHECK OUT OUR Find-a-Class SECTION.