To Start a Successful Program in Prenatal and/or Mom-Baby Fitness is Incredibly Rewarding!
There is great satisfaction in helping women through their childbearing and postpartum experience. You can start a program that is healthy and meaningful, and over time, you can grow your business as moms and toddlers move into new life phases. You can start a program to help others, or if you want to create a group for your own personal prenatal and mom-baby fitness, you can meet an array of wonderful women who are looking to do the same.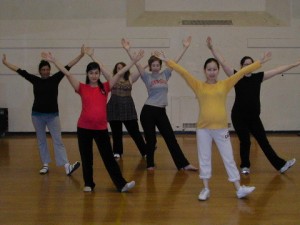 Dancing Thru Pregnancy Will Help You Start a Program.
Our purpose is to guide you in developing a successful program to meet the fitness needs of moms-to-be and women after childbirth in your local community.
Dancing Thru Pregnancy has helped many well-known programs get their start by training the founders, as well as providing consulting or advising services for groups such as: Belly-N-Kicks, Baby Boot Camp, Birth Dancing, Stroller Strides, Fit4Mom, Fifteen to Fit pregnancy, Belly Queen, Expecting Fitness, Prenatal Dance Fitness, Belly Cat, OmMama and many more.
We have also helped moms-to-be and new moms start programs in their communities.

To Start a New Program, Here's How We Help.
With over 35 years experience, Dancing Thru Pregnancy is the ally you need in developing a new pregnancy and postpartum fitness program. You'll need qualified teachers, energetic sales, good bookkeeping, and smart advice. That is why we're here. We help you get going, then we're here if you have additional questions.
Steps for Setting Up Your Program
1. Your first step in developing a program is to consider your needs.
Do you need a license?
Do you need consulting?
Who will teach your program?
Where will your program be located?
2. The second step is to review license information and services that come with it to see if you need this. This can be obtained by contacting the Director at Dancing Thru Pregnancy.

3. Third is to find and/or train teachers.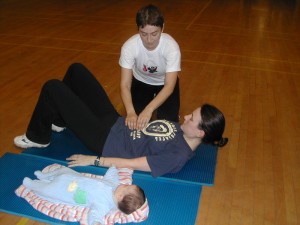 To find out more about training teachers, visit our Teacher Training page.
Once you have determined whether or not you want a license, and arranged for your teacher(s) and training, Dancing Thru Pregnancy is available to assist you in establishing your program; primarily through DTP's licensing and consulting services.
Contact Us to Start a Program
If you want to start a program or a local group, Dancing Thru Pregnancy would love to hear from you. We can mentor you through the entire process, starting with a series of questions that help you determine if a program promoting mom-baby health and fitness is a good fit for you, your business or your institution.
You can reach us at: director@dancingthrupregnancy.com or call 203-481-2200.