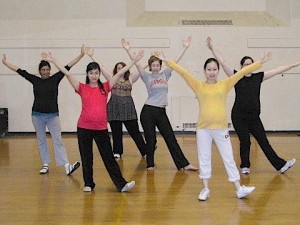 Recent CDC Guide­lines on Exer­cise for the gen­er­al pop­u­la­tion include preg­nant and post­par­tum women. Spe­cif­ic infor­ma­tion for preg­nant women is includ­ed at this URL:
http://www.cdc.gov/physicalactivity/everyone/guidelines/pregnancy.html
James Pivarnik, PhD, pres­i­dent of the Amer­i­can Col­lege of Sports Med­i­cine has released a Med­scape video for health care providers encour­ag­ing them to be aware of the fact that the CDC con­sid­ers a min­i­mum of 150 min­utes per week of mod­er­ate activ­i­ty (or 75 min­utes of vig­or­ous activ­i­ty for ath­let­ic women, or a com­bi­na­tion of inten­si­ty for fit women) to be impor­tant for preg­nant women, along with the gen­er­al pop­u­la­tion.
DTP's Total Preg­nan­cy Fit­ness instruc­tors learn how to com­bine activ­i­ties so that women receive an ade­quate amount of exer­cise each week dur­ing their preg­nan­cy. To find out about becom­ing a teacher, click on Become a Teacher above.