Dancing Thru Pregnancy: Training History & Objectives


Since 1984, Dancing Thru Pregnancy has successfully trained group fitness instructors, dance and yoga teachers, personal trainers, exercise physiologists, midwives and obstetricians, movement specialists, physical therapists and other allied health professionals. Our goal is to help individuals, facilities and institutions bring safe, effective, state-of-the-art programs to as many women and infants as possible.

FAQs

About Becoming a
Pregnancy Fitness Teacher.
Latest update on this page: May 31, 2016.
Latest Study Course Research update: May 31, 2016.
Practicum is now online!!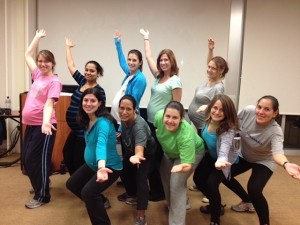 HOW TO BECOME A TEACHER IN PRENATAL & POSTPARTUM FITNESS
Please contact director@dancingthrupregnancy.com to receive your registration e-form (required)
Steps:
1. Teacher Study Course & Exam: $319/teacher. Basic Pre/postnatal Fitness Teacher/Trainer Certification. An up-to-date knowledge base is key to safe, effective teaching.
Practicum:  PDF and private YouTube channel video after Exam is passed. For experienced teachers, this may be adequate for complete training.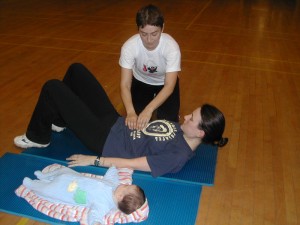 2. Advanced Certification & Brand Identification through Trademark License: $250/license.  Advanced Certification for Teachers.
For those interested in extensive "How to" skills for Teachers and Program Administrators via additional Video & PDF Preparation. Class preparation and business model emphasized. Video consulting available. Licensees may use our trademarks, copyrights, artwork and outcome information based on research study evidence concerning our program's safety and effectiveness.
3. Program Development. If needed, Dancing Thru Pregnancy offers additional program development assistance. (Consulting fees apply.)
More Information about Registration Steps:
Step 1: Register and Pay for Study Course & Exam via PayPal with account or credit card. Contact director@dancingthrupregnancy.com to receive your registration e-form (required). Receive your e-study guide workbook and follow the outline of  reading on website and in textbook (purchase separately from publisher or used from Amazon or Barnes & Noble). Take the exam within 6 weeks of registration. Must pass exam (78%) to move on. Recommended for trained/certified fitness and dance instructors or those with academic degrees and practice in related field of movement education and/or childbirth preparation or health care. For some, Step 1 is sufficient to go to step 3a.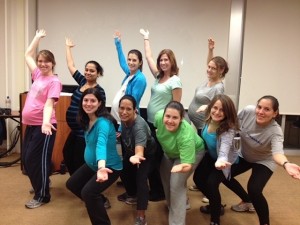 Step 2: Brand your program by purchasing a Trademark License. Include extensive additional training in how to teach classes and how to deal with the idiosyncrasies of the pre/postnatal market. Also includes advice based on experience of running successful operations over four decades.
Step 3: Develop your program for operation.
a) putting together your program on your own.
b) using the license procedure to put together your program in compliance with DTP's guidelines. Includes class procedures, time line and budget planning, and marketing procedures (License). If you will be teaching for a separate licensee, you will learn teaching components and licensee will be in charge of operations and marketing.
---
---
FAQs About Becoming a Teacher in Prenatal & Postpartum Fitness
1. What will this certification qualify me to teach?


Certified pregnancy fitness teachers can work with:

pregnant women
mom-baby groups
pre/postnatal personal training
pre-pregnancy programs

2. What about Continuing Education credit?


The Basic study course and exam provide 12 contact hours and the praticum provides 4.5 contact hours with the State of California for physical therapists through PTPN. The course and practicum certificates are accepted by many fitness and health care professional groups, including ACSM and ACE, for 1.2 and .45 CEUs, respectively.

3. What is the purpose of the Study Course & Exam?

It is designed to ensure that potential teachers have a solid grasp of the physiology of pregnancy and the postpartum period, so that they can make safe and effective decisions about what and how to teach this population. The Teacher Study Course and Exam results in a Basic Pre/postnatal Fitness Certification.

Those with little or no practical experience in fitness or dance are not encouraged to become an instructor until they are active and have knowledge of anatomy and exercise terms, and experience teaching movement.

For those with experience in fitness teaching and marketing, and who do not wish to license, this Basic Certification may be sufficient to develop and operate their own program. If not, most people move on to the Practical components.

4. What is the purpose of the Video "How To"?

This is the "hands on" aspect of training. It ensures that teachers can safely teach Mind/Body work, Strength and Flexibility work, and Cardio/Aerobic work. Potential teachers have access to video segments to learn skills unique for this population and how to lead exercises in each component area.

5. How do I actually put my program together, teach and market it?

Some individuals/businesses already have sufficient experience to do this on their own. Others need to learn this or want additional information on program development specific for the pre/post population. We provide this guidance as part of the Trademark licensing procedure that also includes access to the videos.

Teachers receive class procedures and planning worksheets. Administrators receive guidelines for class scheduling, public relations, time and budget estimates and worksheets. The Trademark option also carries advantages in terms of visibility and credibility.

Additional assistance for marketing and program administration are available on a consulting basis.

6. What about costs? Please review my Options and explain the Fees involved.

All options require that a potential teacher pass

the Basic Pre/postnatal Study Course Exam.

OPTION 1:

Study Course & Exam leading to Basic Pre/postnatal Certification for individuals seeking professional and academic education.

The academic course work is done by e-correspondence/online.

• Study guide and exam: $319 per teacher. Brief video and PDF practicum follows exam. Groups ≥ 10 and PTPN member discounts available.

The course carries 12 contacts hours and the practicum 4.5 hours, which many fitness and health care organizations recognize for CEU purposes. The DTP Basic Pre/postnatal Fitness Study Course and Exam course has been approved for 12 State of California continuing education hours by PTPN, the physical therapy Continuing Education Approval Agency.

OPTION 2:

Study Course & Exam leading to Basic Pre/postnatal Certification PLUS License for individuals or businesses who want practical program development assistance. Licensees may also use our tradenames (Total Pregnancy Fitness™, Dancing Thru Pregnancy®, Mom-Baby Fitness™, StrollerDance™) and teach programs that follow our successful guidelines.

Individuals or businesses may also purchase a license. This provides teachers with access to explicit videos of class activities and structure, along with procedures to insure safe and effective teaching. The license also includes guidance on operations and marketing.

• Study Course & Exam: $319/teacher (as above). Video Practicum and pdf, no fee for first teacher; additional teachers: $25.

• Trademark use and practical video access fee: $250. Extensive advanced Video Training (DTP classes) for teachers and operations administration materials.

• Discounts for large groups.

Find more information in Start a Program.
---
---
LET'S REVIEW THE REGISTRATION PROCEDURES!
1. Select appropriate fee and pay via PayPal (below) for Study Course & Exam. Or, contact us to request and return the registration form we send to you, with a check via regular mail.
2. Contact director@dancingthrupregnancy.com with your name, mailing address, phone, email and interest in registering for the teacher training and we will follow up with your e-registration form (required). PTPN members add your membership number. Or, call 203-481-2200. The best times to call are M-W-F from 10 a.m. until 3 p.m. (Eastern U.S. time).
3.  As soon as we have con­fir­ma­tion from Pay­Pal or receive a check, the course work­book/curriculum is emailed out.  The work­book is the study guide for the course, with related pages from the text­book or online con­tent referred to in the work­book. The exam is sent to you later. You have 6 weeks from the point of reg­is­tra­tion to take the exam.
---
MORE INFORMATION ABOUT BECOMING A TEACHER IN PREGNANCY FITNESS:

LICENSING INFORMATION & REGISTRATION:
What do teachers say about their work and their training
"I know this is important work. I am so glad I found your educational program, so I understand what to teach and why."  – LB