This post is adapt­ed from the 3/17/11 DTP Blog on Preg­nan­cy Exer­cise Safe­ty. For more evi­dence-based infor­ma­tion on Pre/postnatal Health & Fit­ness, check out the DTP Blog. The Blog includes infor­ma­tion start­ing pri­or to con­cep­tion and con­tin­u­ing through post­par­tum and mom-baby fit­ness.
There are three sec­tions to this post: 1) moms-to-be, 2) preg­nan­cy fit­ness teach­ers and per­son­al train­ers and 3) some spe­cif­ic con­traindi­cat­ed and adapt­ed exer­cis­es. All infor­ma­tion pre­sent­ed is based on peer-review research and evi­dence col­lect­ed over a 30 year peri­od of work­ing with this pop­u­la­tion. More infor­ma­tion on safe­ty can be found on this site on the page Ben­e­fits, Safe­ty & Guide­lines.
1) Safety & Exercise Guidelines for Moms-To-Be
First and fore­most, be safe. Trust your body. Make sure your teacher or train­er is cer­ti­fied by an estab­lished orga­ni­za­tion that spe­cial­izes in pre/postnatal exer­cise, has worked under mas­ter teach­ers dur­ing her prepa­ra­tion, and can answer or get answers to your ques­tions.
These are the safe­ty prin­ci­ples that we sug­gest to our par­tic­i­pants:
get prop­er screen­ing from your health care provider
pro­tect your­self
do not over­reach your abil­i­ties
you are respon­si­ble for your body (and its con­tents)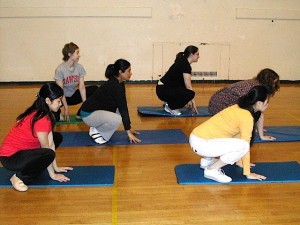 Squat­ting is an exam­ple of a stan­dard preg­nan­cy exer­cise used for child­birth prepa­ra­tion that must be adapt­ed by each indi­vid­ual based on body pro­por­tions, flex­i­bil­i­ty, strength and com­fort.
Don't assume that because your teacher and some par­tic­i­pants can do a cer­tain move­ment or posi­tion that you should be able to do it just like they do. If your teacher is well trained, she will be able to help you select vari­a­tions that are appro­pri­ate for your body.
When you are exer­cis­ing, make sure you are get­ting the most from your activ­i­ty. Keep these find­ings in mind when choos­ing your work­out rou­tine:
Aer­o­bics and strength train­ing pro­vide the great­est health ben­e­fits, reduce the risk for some inter­ven­tions in labor, help short­en labor, and reduce recov­ery time
Cen­ter­ing helps to pre­vent injury; relax­ation and deep breath­ing reduce stress; and mild stretch­ing can relieve some dis­com­forts
Avoid fatigue and over-train­ing; do reg­u­lar exer­cise 3 — 5 times a week
Eat small meals many times a day (200–300 calo­ries every 2–3 hours
Drink at least 8 cups of water every day
Avoid hot, humid places
Wear good shoes dur­ing aer­o­bic activ­i­ties
BE CAREFUL! LISTEN TO YOUR BODY!
If you expe­ri­ence any of the fol­low­ing symp­toms, stop exer­cis­ing and call your health care provider:
Sud­den pelvic or vagi­nal pain
Exces­sive fatigue
Dizzi­ness or short­ness of breath
Leak­ing flu­id or bleed­ing from the vagi­na
Reg­u­lar con­trac­tions, 4 or more per hour
Increased heart­beat while rest­ing
Sud­den abnor­mal decrease in fetal move­ment (note: it is com­plete­ly nor­mal for baby's move­ments to decrease slight­ly dur­ing exer­cise)
2) Safety & Exercise Guidelines for Teachers & Trainers
A prin­ci­ple of prac­tice that increas­es in impor­tance for fit­ness pro­fes­sion­als work­ing with preg­nant women is hav­ing the knowl­edge and skills to artic­u­late the ratio­nale and safe­ty guide­lines for every move­ment she asks clients to per­form.
This goal requires adher­ence to safe­ty as the num­ber one pri­or­i­ty. Here is how we delin­eate safe­ty and the pro­ce­dures we require of our instruc­tors for achiev­ing safe­ty in prac­tice:
First priority: safety [First, do no harm]
some­times med­ical con­di­tions pre­clude exer­cise
find an appro­pri­ate start­ing point for each indi­vid­ual
indi­vid­ual tol­er­ances affect mod­i­fi­ca­tion
gen­er­al safe­ty guide­lines are phys­i­cal
preg­nant women also need psy­cho­log­i­cal safe­ty
Mind-Body Safety Procedures
Cen­ter­ing enhances move­ment effi­cien­cy and safe­ty.
Always begin with cen­ter­ing.
Strength Training Cautions
avoid Val­sal­va maneu­ver
avoid free weights after mid preg­nan­cy (open chain; con­trol issue)
avoid supine after 1st trimester
avoid semi-recum­bent 3rd trimester
keep in mind the com­mon joint dis­place­ments, and nerve and blood ves­sel entrap­ment when design­ing spe­cif­ic exer­cis­es
Aerobics or Cardiovascular Conditioning Procedures
Mon­i­tor for safe­ty
Instruc­tion­al style needs to be appro­pri­ate.
Walk­ing steps with nat­ur­al ges­tures can be done through­out preg­nan­cy
Vig­or­ous steps with large ges­tures are more intense, appro­pri­ate as fit­ness increas­es
The abil­i­ty to cre­ate move­ment that will be safe and work for var­i­ous lev­els of fit­ness and at dif­fer­ent points in preg­nan­cy is one of the most crit­i­cal skills for preg­nan­cy fit­ness instruc­tors.
Venue Safety
Set­ting should pro­vide phys­i­cal and emo­tion­al safe­ty
Equip­ment must be well-main­tained
3) Contraindicated and adapted exercises
Exer­cis­es for which case stud­ies and research have shown that there are seri­ous med­ical issues include the "down dog" posi­tion, rest­ing on the back after the 4th month, and abdom­i­nal crunch­es and oblique exer­cis­es. Here is more infor­ma­tion and adap­ta­tion sug­ges­tions:
Con­traindi­cat­ed: "Down Dog" requires that the pelvic floor and vagi­nal area are quite stretched, bring­ing porous blood ves­sels at the sur­face of the vagi­na close to air. There are records of air enter­ing the vagi­nal blood ves­sels in this posi­tion and mov­ing to the heart as a fatal air embolism.
Adap­ta­tion: Use the child's pose, with the seat down rest­ing on the heels and the elbows on the ground, hands one on top of the oth­er, and fore­head rest­ing on the hands. Keep the heart above the pelvis.
_________
Con­traindi­cat­ed: Rest­ing on the back dur­ing relax­ation.
Adap­ta­tion: Rest in the side-lying posi­tion. About 75% pre­fer the left side, 25% pre­fer the right side.
_________
Con­traindi­cat­ed: Abdom­i­nal crunch­es and oblique exer­cis­es can con­tribute to dias­ta­sis rec­ti in some women. The trans­verse abdom­i­nal mus­cle is not always able to main­tain ver­ti­cal integri­ty at the lin­ea alba, and thus there is tear­ing and/or plas­tic­i­ty of that cen­tral con­nec­tive tis­sue.
Adap­ta­tion: Splint­ing with curl-downs, see posi­tions below. By press­ing the sides of the abdomen toward the cen­ter, women can con­tin­ue to strength­en the trans­verse abdom­i­nals with­out the shear­ing forces that place lat­er­al pres­sure on the lin­ea alba.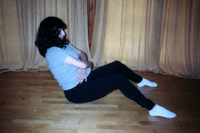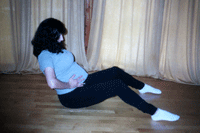 Curl-downs are gen­er­al­ly the safest and most effec­tive abdom­i­nal stren­then­ing exer­cise.
Splint by cross­ing arms and pulling toward cen­ter (L)
Or, splint by plac­ing hands at sides and press­ing toward cen­ter ®